NXP Notes NFC Design Wins for 200 Smartphone and Tablet Models
NXP Semiconductors said that 200 smartphone and tablet models are in the pipeline carrying its NFC chips–with about 40% of them either already in production or "moving toward production over the (next) few quarters."
NXP CEO Richard Clemmer made the statement today during a conference call with financial analysts following release of the Netherlands-based chip maker's second quarter earnings.
The updated design win count is up from the cumulative 130 design wins NXP noted it had notched following its fourth quarter 2011 earnings report in February. It didn't release a design win total following the first quarter of 2012 financial statement. NXP said it had 90 design wins as of the third quarter of 2011.
NXP holds a dominant market share of NFC chips, thanks largely to the lock it has enjoyed on business with Android phone and tablet makers, including Samsung, LG Electronics and HTC. That followed adoption, announced in late 2010, by Google of NXP's NFC middleware for its Android operating system. The middleware works with NXP's chips.
Although it's possible for Android device makers to use NFC chips from other semiconductor suppliers, no NFC-enabled Android phones or tablets have been released to date without an NXP chip inside. Google, in announcing its first branded tablet, the NFC-enabled Nexus 7, in June, noted that more than a million NFC-enabled Android smartphones and other devices are shipping each week.
"Our mobile transactions (unit) design win momentum continues to build, not only with shipments but also with approximately 200 unique handset and tablet design wins awarded," Clemmer said during an opening statement during the conference call. "Of these projects, roughly 40% are either in production or moving toward production over the few quarters."
When asked by an analyst if NXP could supply NFC chips supporting other platforms, such as Windows and Apple's iOS, Clemmer noted that NXP had already announced support for Windows, in addition to Android. But he ignored the part of the question about iOS.
While many rumors are circulating suggesting that Apple will adopt NFC, it's not yet known whether the tech giant will incorporate NFC in its next iPhone.
NFC a 'Key Growth Driver'
NXP's NFC chip shipments contributed to growth of the chip maker's Identification business segment, which had revenue of $234 million for the second quarter, up 20.6% from a year earlier and an increase of 25.1% from Q1 of 2012. The revenue increase in the unit bested earlier projections by the company.
NXP's ID segment includes shipments of chips for dual-interface banking cards, transit cards supporting NXP's Mifare technology and tags and labels, including those supporting NFC.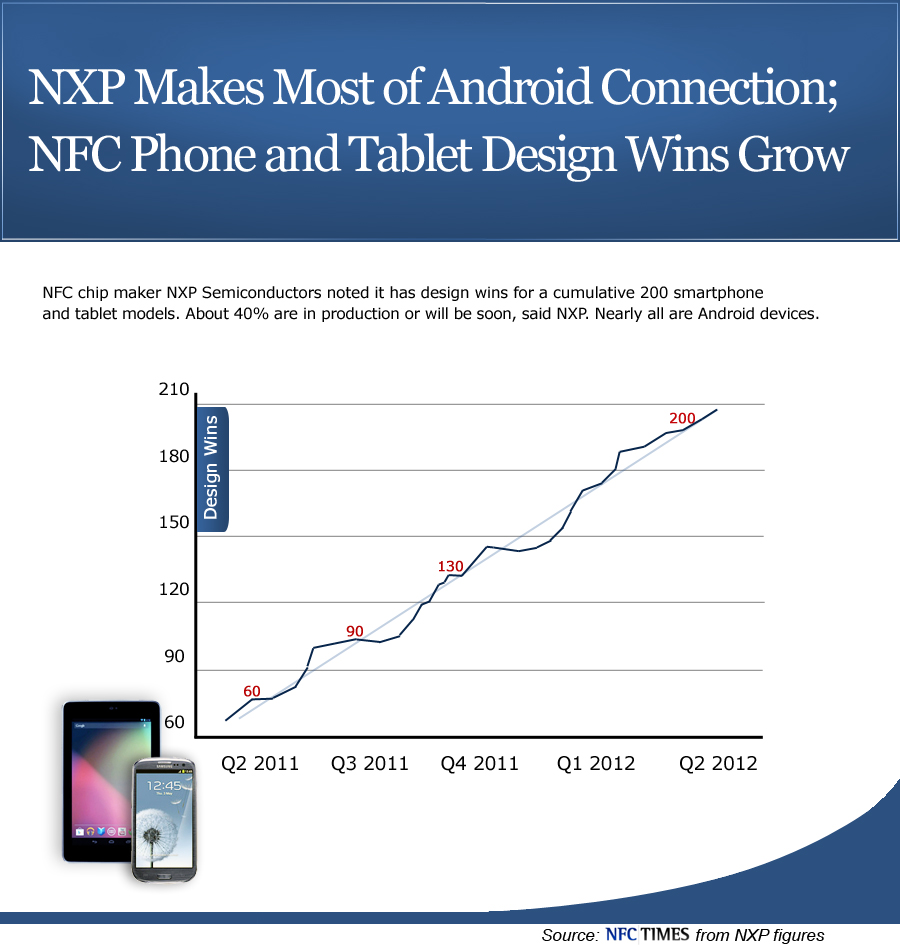 These "core" products account for about 80% of sales of the ID segment, or about $184 million, and they grew by 12% as compared with the first quarter of 2012, said Clemmer.
NFC chip sales are part of the other 20% of NXP's Identification segment, which Clemmer referred to as the emerging ID unit. This unit also includes authentication chips, such as those used to deter hacking and counterfeiting attacks in software and network systems. Clemmer didn't break out the NFC revenue.
But he noted that the emerging ID unit had sales of $50 million–more than double the approximately $23 million in sales in the unit during the first quarter of 2012.
Still, at $50 million, the unit accounted for less than 5% of NXP's total revenue of just under $1.1 billion for the quarter. The company also makes chips for automobiles, PCs and such industrial and infrastructure equipment as cellular base stations, cable modems and lighting.
Clemmer, however, listed NXP's ID segment, including NFC, first when talking about key drivers for revenue growth for the chip maker in the third quarter and beyond.
He mentioned the expected ramp up of NFC devices and demand for contactless "banking products" in both the U.S. and China.
NXP will soon encounter more competition for its NFC chips from such large chip makers as Broadcom, as well as Texas Instruments, Samsung Electronics, Marvell and Infineon Technologies–the latter competing with NXP's embedded secure elements in NFC phones.
NXP's 200 design wins are a cumulative figure, so they include phone models used for pilots over the years, along with all of Nokia's Symbian NFC models.
Rival Inside Secure has been the only other chip maker supplying handset makers with NFC chips outside of China. Inside's chips are used in a handful of NFC-enabled BlackBerry models from Research In Motion, along with the Nokia Lumia 610, which sports a specially adapted version of the Windows Phone 7.5 for NFC.
NXP had earlier announced its NFC support for Windows 8 PC operating system, which will be used for tablets, along with notebook and desktop computers. NXP is also expected to support the Windows Phone 8 operating system, which will be used for smartphones.