Intel, HP Signal Plans for Supporting NFC on Ultrabooks
U.S.-based Intel, as expected, is planning to incorporate NFC technology into chip designs for future ultrabook computers, the vice president and general manager of the chip maker's PC group said Monday.
Mooly Eden in a press conference in connection with the Consumer Electronics Show in Las Vegas, demonstrated a contactless transaction by tapping a MasterCard PayPass card on one of the ultrabooks. The press conference and announcements expected later this week are part of Intel's big push behind the rollout of the new category of thin and light laptops this year, as the chip giant fights back against the popularity of tablet computers.
Intel and MasterCard announced the plans at the Cartes and IDentification show in Paris in November to enable consumers to tap their NFC phones and contactless cards on ultrabooks to shop securely on the Web.
Update: In a keynote speech on Tuesday, Intel CEO Paul Otellini said device makers Lenovo and Motorola Mobility will introduce smartphones based on Intel's Atom chips. And later during the speech, Intel's Mike Bell, vice president and general manager of the chip maker's mobile wireless group, reportedly showed a reference design of a smartphone that could use Intel's Atom Z2460 processor. Among features in the phone was NFC.
Intel has been thwarted in the past in its efforts to gain market share in the smartphone market, largely because its chips have been too power hungry. But it is ready to make another move into the market and appears to be high on NFC technology.
As NFC Times reported last month, Intel has signaled a growing interest in NFC in recent months.
Last month, France-based Inside Secure announced a nonexclusive licensing deal that gives Intel access to its NFC chip technology, including hardware and software, which Inside said Intel could use to build NFC into its future chips for a range of devices. Intel also could use Inside's standalone MicroRead and SecuRead chips for its implementations, including in mobile devices.
Intel also recently upgraded its membership in the NFC Forum to take a seat on the board of the standards and trade association, alongside other chip suppliers, NXP Semiconductors, Sony, Broadcom, Renesas Electronics, Samsung Electronics and STMicroelectronics and Inside Secure. Intel said in a statement at the time that it believes NFC has "great potential" to improve the experience of users "via simplified and secure device interaction." End update.
The deal with MasterCard is multiyear collaboration is intended to build the technology, including contactless or NFC readers, into the devices, which are similar to Apple's MacBook Air thin notebooks, said the companies.
Intel and MasterCard said at the time that other PCs and devices supporting online payment would follow. And the Intel-powered devices will be able to eventually accept payments from other contactless brands, as well.
Eden did not elaborate on that Monday, and was mainly demonstrating the performance of the ultrabooks and Intel's new line of processors, nicknamed Ivy Bridge, for working with graphics and animation.
But on NFC, he reportedly said NFC would allow Web shoppers to avoid typing in their card details for Web shopping and the transactions would be more secure, since fraudsters wouldn't be able to steal the card and use it on another device. As earlier reported, the devices would incorporate Intel's Identity Protection Technology.
Eden added that 75 ultrabooks were headed to market this year, including those from Lenovo and Acer, though not all will support Ivy Bridge. Eden also did not say when the first ultrabooks supporting NFC technology and contactless payment would be available. But Intel in November told NFC Times the first such devices enabling contactless payment would become available sometime in 2012.
Intel is expected to incorporate NFC into at least some of the Ivy Bridge line of faster, less power-hungry processors.
HP Unveils NFC Feature on Laptops
Meanwhile, one of the first ultrabooks headed to market supporting NFC—though not related to the Intel-MasterCard payment project, will be the from Hewlett-Packard. HP said it would incorporate NFC into the "premium ultrabook," due on the market next month.
The glass-clad notebook, the Envy 14 Spectre, will enable users to tap the devices with their smartphones to transmit URLs of maps and other mobile Web sites to the notebooks. The smartphones must also support NFC and carry an app from HP.
HP is perhaps the first major PC maker to announce support for NFC. The focus up until now is for device makers to incorporate the technology in smartphones. HP announced the new notebook Monday, also in connection with the Consumer Electronics show, or CES.
Sending Keystrokes Via NFC
Other NFC-related product announcements are expected during the show, including an NFC-enabled portable keyboard that communicates with smartphones and tablets, enabling users to type notes and e-mail or social networking messages on a "full-size keyboard" that is foldable and fits into the pocket.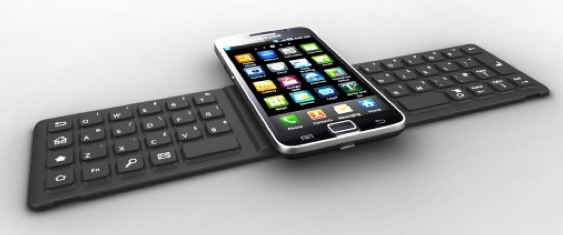 Norway-based One2touch told NFC Times the device communicates the keystrokes to smartphones or other devices entirely with NFC, so no Bluetooth pairing is needed.
The vendor said it has a contract to supply the devices to large Japanese accessories retailer ELECOM. The keyboard also communicates via NFC-like FeliCa technology, which most Japanese mobile phones support.
Article comments